Being a trial attorney in busy Atlanta, Georgia, Thomas Ashenden is no stranger to beating against injustice or flowing with the rhythm of a courtroom.  His clients know him as a resilient advocate for those who have been seriously injured or have lost a loved one due to the negligence of another. What those same clients may not know is his deep love for music and his weekend and evening double life of a rock and roll band musician.
"When I was, I guess, about 11 years old, I had a tendency to tap on counters, chairs, and tables," Tom Ashenden recalls. "That prompted my mother to ask me if I was interested in the drums…" "Then, she and my dad promised me that upon graduation from the eighth grade, if I could show that I was playing and practicing, they would buy me a set of drums."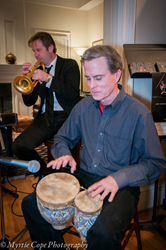 Growing up in Chicago, IL in the 1970s, Ashenden had no shortage of great musical talent right in the heart of the city and nearby Detroit. The Temptations, 4 Tops, Aretha Franklin and Wilson Pickett were some of his first musical inspirations. However, John, Paul, Ringo, and George top the chart as his favorites. "The Beatles were my first real influence as far as becoming a drummer and guitarist," Ashenden said.
Through his high school and college years, Ashenden cultivated his passion and talent by playing in various rock, blues and soul bands made up of anywhere from 2 to 5 members. Their covers included music from The Rolling Stones, Beatles, The Kinks, The Animals, Muddy Waters and The Black Crows.
After college, Ashenden debated pursuing his passion for music and performing full time, but his desire to help people who were less fortunate was stronger. He traded in his drum sticks for a horn book and started law school, following in the footsteps of his father who was first a public defender and then a private practice civil litigation attorney in Chicago for over 50 years.
As an attorney, Ashenden has not forgotten about his first love. He joined a band of other musically inclined lawyers in 1995 called Sidebar and performed at local Atlanta venues such as Fat Matt's Rib Shack and Smith's Olde Bar. One of his most notable performances was during the 1996 Olympics at Kenny's Alley. "Sidebar was really a lawyers blues band featuring Ralph Ellis on lead guitar and vocals, Ed Cheroff on keyboards, Jay Sadd on bass guitar and me on the drums," Ashenden said.
At the turn of the new millennium, he formed The Icebreakers. "The concept that I had in mind was to play mostly British invasion music." Ashenden said. "Since it is older music, we would have to 'break' the 'ice' off those old songs in order to revive them." "We had a great run for 8 years playing private parties, bars, and most memorably, a 4th of July show at the Mall of Georgia."
To many, Ashenden admits, his demanding, structured career as an attorney does not seem to gel with the life of a rock and roll musician, but he finds the nexus between the two.
"Music is a part of me, so I bring that to my office and to my clients." "I often strike up a conversation with my clients about their favorite music and artists, which always leads to some common ground." "I'm known for making CDs for certain clients when I learn about their favorite genre." His law firm office features framed drumsticks signed by Charlie Watts of the Rolling Stones on the wall along with drinking glasses depicting Beatles albums like "Help," "Hard Days Night" and "Abbey Road."
Currently, you can find Ashenden practicing during the evening or performing on the drums with his band, the Psychics. The Psychics recently performed a benefit concert for the Fountainview Center for Alzheimer's Disease at the 5 Seasons Brewing Co. in Roswell. On June 7, you can catch him at this year's annual LawJam at the Variety Playhouse. LawJam, hosted by the Atlanta Bar Association, is a competition concert featuring attorney bands with proceeds supporting pro bono legal services.
"It's almost as gratifying for me to see people get up and dance when we perform as it is to see a satisfied client walk out of my office or the courtroom having been justly treated."